I should let you know something up front that you might have already guessed – I'm very much a traditionalist. Frankly, I'm more than slightly amazed that I've been on the Internet since 1999 – time I spend being on the computer is time I'm not spending playing my guitar. It can be as simple as that sometimes.
And it's weird because many of my friends are very tech savvy – either engineers or IT folks. They use iPads when we perform and don't think twice about it.
So I was more than a little bit anxious when someone at  Band Industries wrote me to ask if I'd like to review their Roadie 2 tuner. I'm more than happy with the tuner I have – it's as close to "no-frills" as I can be (and, to be honest, if I didn't have to spend time tuning guitars in my group classes, I'd probably use a tuning fork!) and this Roadie 2 looked very seriously out of my league.
In fact, when it arrived I felt two conflicting emotions: I was thrilled and impressed with its design but the close-to-half-inch thick manual that came with it fed those previously mentioned anxieties. To be fair, the manual measures three-and-a-quarter inches by three-and-three-quarter inches, so it's not surprising it would be that thick, especially when you take into account that it's in English, German,  French, Japanese, and Chinese!
So I settled in and started reading. And then I took a break and tried to  choose which guitar to tune first. Of course, I was absolutely stalling, and it turns out my fears were silly.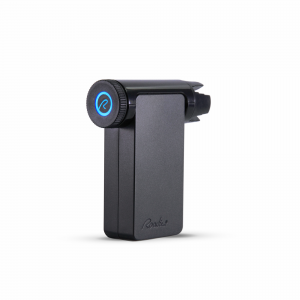 The hardest part, truthfully, was working through the set up steps. It doesn't assume anything. You have to add your instrument into the Roadie's list. I picked "acoustic guitar" and was then asked how many strings had. I chose 6 (I could have 12)(and later did!) and then it asked me to give the guitar a name and I got impatient owing to the fact that now I thought the tuner was enabling my stalling. We (the tuner and I) agreed to move on to the next step, which was picking a tuning.
Selecting "Standard," I was now prepared to tune! The screen said "E2," which I realized was the second E up from the lowest note on an eighty-eight key piano. I slipped the Roadie onto the tuning peg and struck the string. For a moment, a nanosecond perhaps, nothing happened. Then there was a whirring following by a slight chirp. The indicator light switched from blue to green and the screen moved on to "A2," and I obliged by shifting the Roadie to the A tuning peg and plucking the string.
I was amazed at how well it was going, until having complete the A and having moved the Roadie onto the D tuning peg, I accidentally struck the A string again! Instant panic set in! But then the cool, calm, and collected part of me reasoned, "Just turn it off and start over" and I did and together we got through tuning my prized Seagull guitar. I was pleased and back to being thrilled again!
From the Seagull I moved to one of my ukuleles. I had to start from scratch again, but (as the old joke goes) I learn from my mistakes (and can repeat each one exactly!). I also did my Raven 12-string electric and my classical as well.
Mandolin? Not a problem. Five-string banjo? Also not a problem.
I went back to the acoustic and tried open G. Then went immediately to DADGAD. The whole process literally took less time than I spent writing this sentence!
I'm going to try open C on my 12-string so I can practice Paul Stookey's "The Wedding Song!" I can see how this is going to make me practice more!
And isn't that the point?
Granted, this tuner costs a lot. I see them on Amazon for $129.00. That's not for everyone. But it's less than $4.00 a day for a month. And if you skip one coffee (or two depending on where you live) (or just a half-cup depending from which coffee franchise  you buy), you can have a tuner that make you excited to play and get practicing.
As for me, I smile now every time I pick up my guitar tuner. That's saying something!