Musically, I came late to a lot of parties. My uncle and aunt gave me Simon and Garfunkle's Bridge Over Troubled Water (on cassette) for one of my birthdays. Then I discovered they'd broken up.
Similarly, a friend introduced me to the Moody Blues one day by playing In Search of the Lost Chord. We listened to the whole album one Sunday afternoon. Of course, this was in 1974 and the band had already called it quits.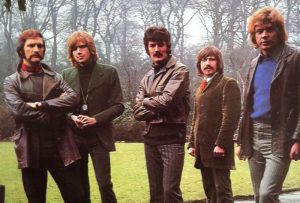 But the Moody Blues helped me a lot in college. Knowing how to play their songs made me many friends. Even now, playing out every now and then, I can start in on "The Story in Your Eyes" and know that everyone is listening happily.
And, again of course, The Moody Blues made a bit of a comeback while I was still in school with Octave, released in 1978. Prior to this, the group released Caught Live + 5, a performance at the Royal Albert Hall from December 1969. I remember being thrilled that one of the songs on the album was "Are You Sitting Comfortably?"
I saw the Moody Blues only once, with my brother Tom at Poplar Creek, an outdoor venue in Hoffman Estates, one of Chicago's northern suburbs. We caught a special bus out of Jefferson Park (neither of us had a car at the time). While we both have our favorite Moody's songs, the undisputed highlight of the evening was "Legend of a Mind," performed by Ray Thomas, who wrote the song:
On December 13, the Moody Blues got inducted into the Rock and Roll Hall of Fame. The ceremony will  take place on April 14. Sadly, one of the original seven members of the Moody Blues will not be able to be there. Ray Thomas passed away the fourth of January.
There are many of Thomas' songs I thoroughly enjoy and teach, like this one, from the band's Seventh Sojourn album:
Peace