Having spent the afternoon with Jeffrey at his "Grateful Dead for Acoustic Guitar" workshop, I headed home to do some quick errands. That evening I was going to attend the first ever "Berkshire Strings Presents" event at Dewey Hall in neighboring Sheffield.
Two things you're going to want to know about this: first, Berkshire Strings is run by my friend Erika Ludwig, a bright and talented violin and viola player / teacher whom I met many years ago. She runs a summer program here in town, usually the second week in July, to teach youngsters about playing in groups. At the end of the week, the students get to play a concert at our local park, as well as pop up at various places around Egremont during the day. Also, the various teachers at the program put on their own show to inspire the students and this inspired "Berkshire Strings Presents," Erika's latest venture, promoting concerts which in turn help to fund the music programs of the summer program. As Erika says,
"Berkshire Strings Presents" began as a local liaison for Berkshire Summer Strings instructors wanting to perform locally and is now facilitating other musicians wishing to play at Dewey Hall; specifically artists who will inspire my students."
The second thing you should know is that Dewey Hall is a very special place. Built in 1887 on the Sheffield Green in the center of town, I've had the honor of playing there numerous times since moving to the Berkshires. It's an intimate venue where you can be close to the musicians without being on top of them. Not a bad seat in the house, as they say.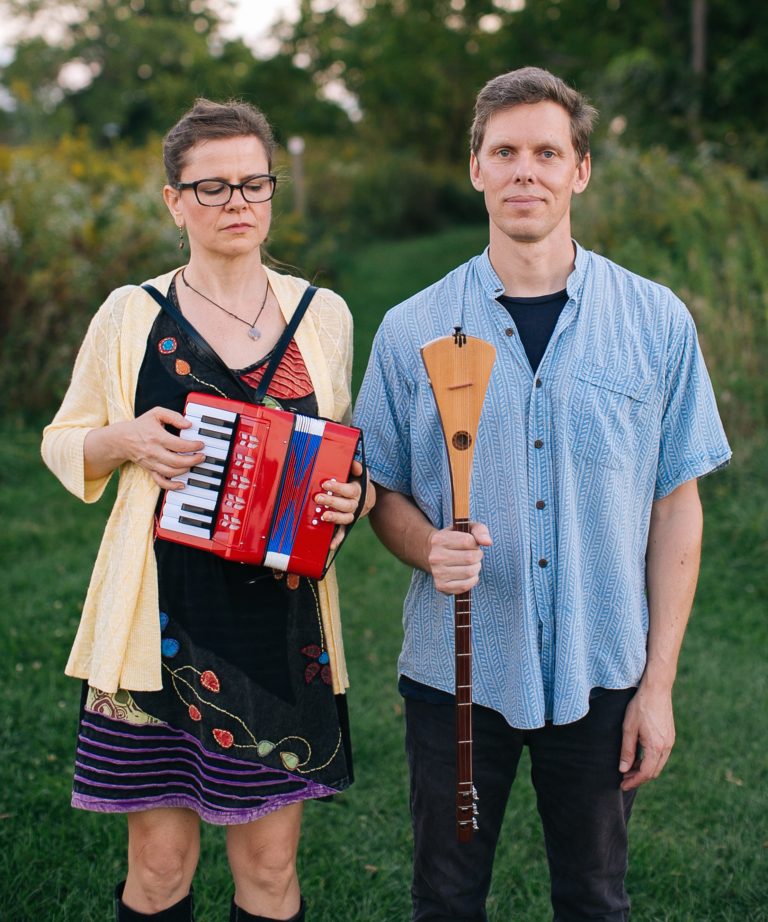 When I caught up with Erika at Dewey Hall before the evening show, we'd both had a full day – me with Jeffrey's seminar and she with her monthly Berkshire Strings Jam session that afternoon. Somehow, though, she had also found a way to prepare a meal for that evening's slate of musicians, which included Jeffrey Rodgers and Wendy Ramsay (playing as Pepper and Sassafras) and Jordan Tice and Horse County.
The concert started at eight, so we had time to do the sound check, eat, chat, and greet people as they began coming to the hall. It had been cold all day, with the temperatures not getting much into the teens. But a good crowd filled the hall for an evening of music.
Pepper and Sassafras kicked off the show with "Almost There," the title track from Jeffrey's latest album, which he and Wendy co-wrote, and then played "Eight Days in January," also from that album. Knowing that the Dewey Hall audience has a lot of love for folk music, the then did an incredible arrangement of "Wayfaring Stranger."
Throughout the set, I kept hearing solid examples of the advice Jeffrey had given to us earlier in the afternoon. Keeping it simple, yet interesting. He didn't shy away from any solos, but he also gave Wendy plenty of room for her wide array of instruments. It's not everyday you get to hear a folk duet on guitar and clarinet!
They next did some cute songs, including one by Wendy:
They closed their set with the Leonard Cohen classic, "Dance Me to the End of Love" and "Fly" (grand prize winner of the John Lennon Songwriting Contest):
All in all, it had been a wonderful day. Got to play music, learn some cool guitar chops, eat some terrific food, make new friends, and listen to beautiful songs. That's pretty much how life should be.
Peace