Today, August 10, is Fred Schane's birthday.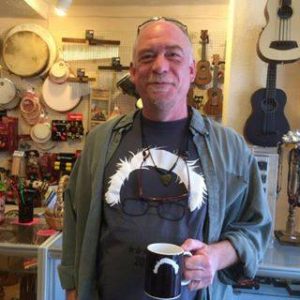 I moved to the Berkshires on January 1, 2004 and met Fred Schane shortly thereafter. He worked at the local music store, which was actually called "The Music Store." Learning that I had moved to the area to teach guitar, he promptly requested I attend an open mic he was hosting at a local restaurant. I remember being a bit nervous at the first one, wanting to make a good impression on both Fred and the rest of the customers. Things went well and my Monday evenings often found me attending and playing at Fred's open mic.
We developed an easy rapport. He introduced me to many people, some who became students, some who became close friends. He encouraged me to play out, and as he often organized music events for local charities, I often got to perform for his various benefit concerts. I remember showing up for an event at our local "bandstand" thinking I had an hour to wait before I went on but he asked if I could go on straightaway as the performer ahead of me was running late. One of the songs I would do was Ian Tyson's "Summer Wages." Fred typically would record any show he was working on and liked his recording of this song so much that it became a part of his demo tape.
In 2007 I played a number of shows at the Monterey General Store and had Fred record all four, as well as one by my former student Kathy Reichert. Selections from those recordings became the CD "Songs and Sandwiches."
Somewhere in there he took up the ukulele. He would show up at open mics I'd host for my students and play his songs like "BBQ" and "Wrote It (for You)." Or Peter Gabriel's "Here Comes the Flood." Or Anthrax's version of Public Enemy's "Bring Da Noise."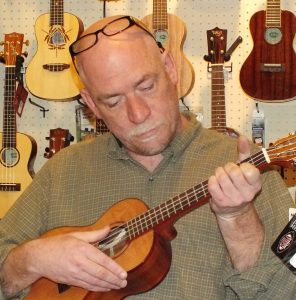 Fred worked summers doing sound for the National Guitar Workshop's camp in Connecticut. His work there led to him becoming, in October 2008, the sound manager for Infinity Hall in nearby Norfolk. We'd catch up whenever I'd take in a show there.
When I had my stroke last summer, Fred stepped up to provide sound for the benefit concert thrown by Erika Ludwig (to whom he'd also introduced me during the years). And I was delighted to hear that he'd been hired by Club Helsinki in nearby Hudson to run their sound.
Last winter, Fred was diagnosed with colon and liver cancer. He passed away early last Saturday morning, August 5. I've been spending a lot of time watching his videos on YouTube.
To say he was a good friend, a valued colleague, a beautiful human being seems inadequate. As it happens, I am in the middle of writing a piece for Acoustic Guitar Magazine about why we share music, and how easy it is to do. Fred was the living embodiment of sharing music with everyone.
Since Fred has passed, tributes have been pouring in from everywhere. Marc Schafler (the owner of Club Helsinki) is starting a scholarship in Fred's name to help young women train to become audio engineers. I'll post more details as soon as they become available.
This tribute, from Erika Ludwig, pretty much takes the words right out of my heart:
As Fred would say, don't get cancer. But if you're going to get cancer let it transform you.

When I sat with Fred and shared what I'd witnessed in him, we both "got it". Even if we feel undervalued, unappreciated or misunderstood, we must be assured that living a loving life (not just towards others but also towards ourselves) is the only important motive. To be able to credit Fred, and have him accept credit, for inspiring me to more vigilantly live with an open heart was healing for us both.

Fred was already known as a kind person but it seems it took cancer for him to be so kind to himself that he could ennoble those around him. And that's a super-power if ever there was one.
Rest in peace, my friend. We'll keep sharing the music you made.