Hello to all!
My last post produced this wonderful comment from Doug C:
My goal(s) for 2018: To learn some new songs. I also want to learn Carter-style picking, and Travis picking. I've been playing for decades, and while strumming is good, I've never done anything resembling fingerpicking, so it's way past time to get on that.
This could also be the year for some Donovan and Dylan songs (and maybe some others) in alternate tunings, such as Open D. There should be some harmonica practice in my future, too.
To which I made the following reply:
Those are all admirable goals! Fortunately, we've got a good number of easy, beginners fingerpicking lessons at Guitar Noise, which you can find here:

Travis Picking Part One

Travis Picking Part Two

"Wildwood Flower" is a great way to learn the Carter-style picking and it's high time I tried to put together a tutorial on that. Hopefully 2018 will be kind to me in terms of time…

Good luck and keep up posted on your goals!

Peace
And that got me to think about all the articles I've written for Guitar Noise over the years (going on the nineteenth currently) and I can't even start to know them all. When you click on my name, there are more than ninety pages of articles!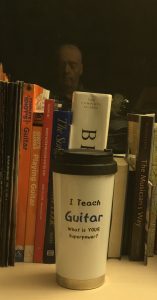 So I'm making a resolution (which I'll hopefully be better at than my brash Facebook post about doing one Facebook post a day!) to read through one lesson a day. I'm starting with the very first one,  "Breaking Out of the Box."
I probably won't go in total order, but I'm hoping to unearth some treasures, such as Making the Least of Your Resolutions  which is certainly a timely piece, no?
Here's to hoping, in the wonderful words of Counting Crows' Adam Duritz that "this year will be better than the last…"
By the bye, another reason I'm psyched for doing this is that I get to replace photos like the one on top with photos much more accurately descriptive of the "new and improved me!"
Peace